Dir. Jason Kenworthy & Aaron Lieber, 2011.

Nike 6.0 has been making waves in the surf industry recently picking up some of the best talent for both men and women. "Leave a Message" focuses on six of the women who are currently leading the new wave of women's surfing. Malia Manuel, Coco Ho, Laura Enever, Monyca Byrne-Wickey, Lakey Peterson and Carissa Moore round out the cast for a short glimpse into where women's surfing is headed. Malia starts off the action with a segment that showcases here talent yet toward the end of her segment seems a little repetitious. This is not her fault just seems to be pieced together to much. Next up is Coco Ho whose sections starts off with "I work so hard because I have big shoes to fill." Here segment has a good flow to it with some shots taken from her victories at contests. Her focus for training come through in her surfing which is top notch. Third in the bunch is Ms. Byrne-Wickey and with her segment I found it a little to fashion model and less surf. It really lacked direction and seemed to be the weakest of the bunch. From here Lakey Peterson brought some high energy with her airs and talented wave riding. This Cali girl is holding her own with the Hawaiian and Australian talent. Following this energy was a hard charging segment from Laura Enever. Never really a fan of her surfing before this seeing some of the waves she was committing to was very impressive. There is no doubt why she in on tour with the likes Mulanovich and Gilmore. And on the topic of the World Tour 2011 champ Carissa Moore has a strong finale to the film with some hard charging, good flow and her stylish wave riding. Proving why she is leading the charge for women's surfing. The surfing within the film had its ups and downs with strong pieces and weaker ones showing that women's surfing is becoming more of a force to recon with. The cinematography was decent for the project, with six beautiful ladies ripping it up you could only hope for better and the editing and direction lacked as well. If these six women can bring their a game to the waves you could at least hope that the film team could do the same for them. Good thing Nike 6.0 put it on-line to start. I can tell you that I am excited to see what these ladies come out with next because if this is the small window into where women's surfing is headed I am ready to see the big picture!!Check it out for yourself here.
Powered by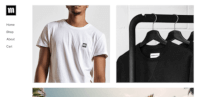 Create your own unique website with customizable templates.